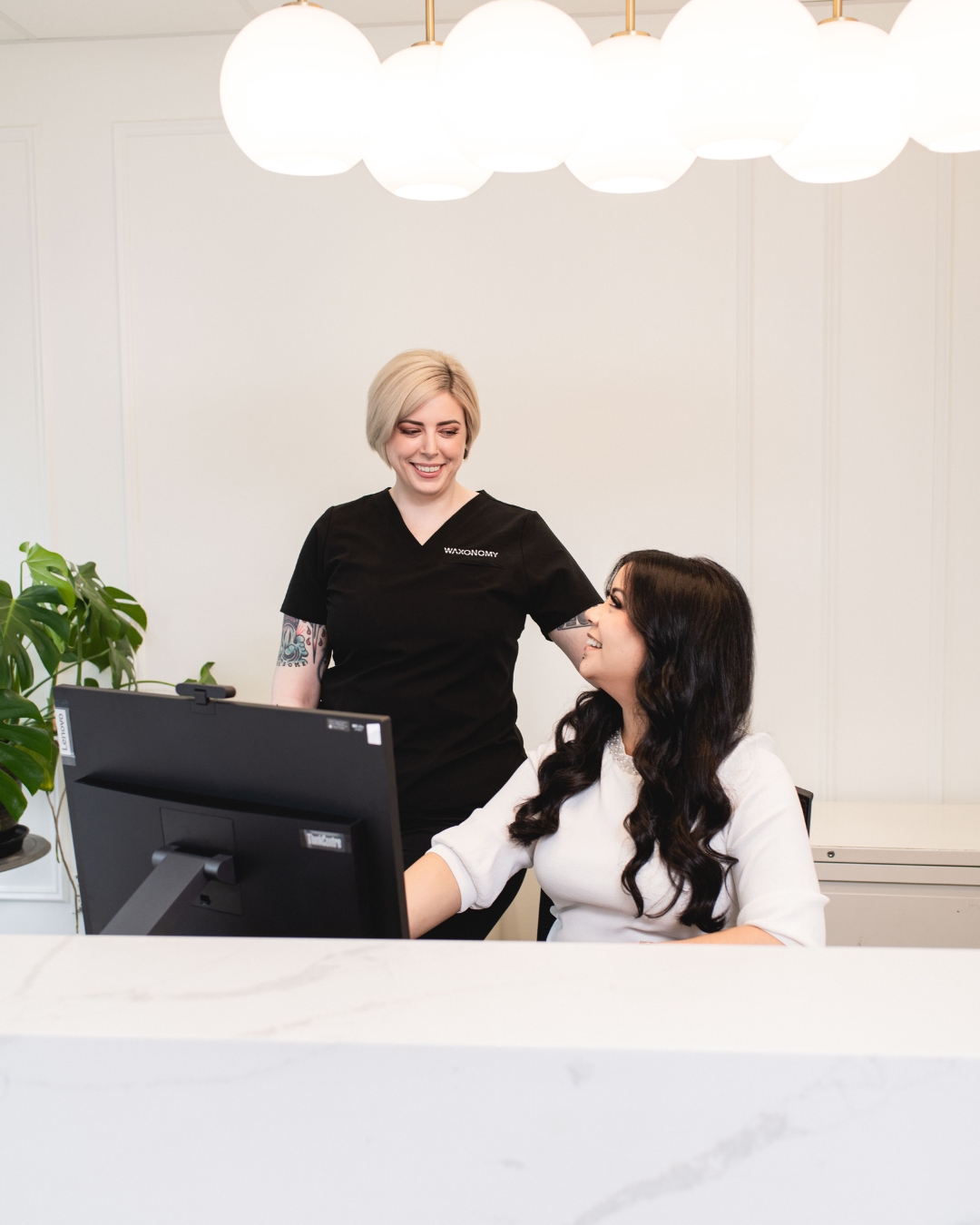 We can help
Need an answer to a question before coming into the salon? We're always looking to help provide you with the right info before you stop by. So, scroll down! We have the answers you need here.
Frequently asked questions
Before calling or texting the salon, check to see if your question is answered here!
Can I get waxed on my period?
Yes! Many people believe that if you have your period, you can't get waxed. Please come to your appointment with a fresh tampon or menstrual cup, and you're good to go. Be aware that you may be more sensitive during your period though, so you may feel more discomfort than usual.
How long does my hair need to be to get waxed?
Your hair must be at least the size of a grain of rice (1/4 of an inch) in order to be waxed.
Are there ways to save money at your salon?
Absolutely! We understand the need to have afforable beauty services, and that's why we try our best to offer discounts when possible. If you pre-book your Brazilian wax in person, you can save $5 next time. If you're a UNT staff or student, show us your ID card and save 10% on your service. We also offer monthly promotions on different services! You can ask us at the salon or on social media about them.
How can I minimize pain from waxing and laser?
Everyone has different comfort levels, so we get that some services may be more painful to some. If you find waxing or laser painful, try a numbing cream or pop an Advil 30 minutes before!
How do I know your salon is sanitary?
We thoroughly clean our rooms before and after each service to maintain a clean workspace. Most of our tools are disposable and get thrown out after each client. For tools that cannot be disposed of (tweezers, scissors, etc), we clean and sanitize them before re-using.
Our policies
General cancellation

Please be advised that cancellations made prior to 24 hours of a scheduled appointment via email, text, phone call will be processed without a penalty. 

If you give notice within less than 24 hours or do not show up for your appointment, a fee equivalent to the service booked will be charged to your account.
Deposits

For any full body waxes and permanent makeup appointments, we require a deposit in order to book. This deposit amount will be taken from your service total, and you will pay the remainder after your service is complete.

Full body waxes require a 50% deposit and permanent makeup requires a $100 deposit.

You must call and give us a credit card over the phone. If you miss your appointment or fail to reschedule before 24 hours, you will not get your deposit back.
Booking

All waxing appointments require a credit card on file to book your appointment. Cancellation fees will be applied to the credit card provided only if the appointment is rescheduled or missed within 24 hours.
Kindness & respect

Harassment, non-compliance, or aggressive attitude related to our policy or staff will not be not tolerated. We appreciate your understanding and thank you.